Keynote Speaker I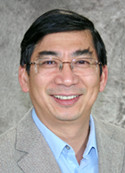 Prof. Chang-Deng Hu
Purdue University, USA
Dr. Chang-Deng Hu is a tenured professor in the Department of Medicinal Chemistry and Molecular Pharmacology, Purdue University College of Pharmacy. He also serves as Program Co-Leader of Cell Identify and Signaling and Program Co-Leader of Prostate Cancer Discovery Group in the Purdue University Center for Cancer Research. Dr. Hu received his M.D. from Bengbu Medical College, China and Ph.D. in molecular biology from Kobe University, Japan. Prior to his Ph.D. study, he also conducted his graduate study for M.S. degree in tumor immunology at Tongji Medical University, China. During his postdoctoral research at the University of Michigan, Dr. Hu pioneered the development of bimolecular fluorescence complementation (BiFC) technology for visualization of protein-protein interactions in live cells. His lab at Purdue has developed an integrated research program that involves technology development, biological discovery, and clinical translation. The current research focus in the lab is "Mechanism and targeting of therapy-induced neuroendocrine differentiation in prostate cancer."
Speech Title: "Treatment-Induced Neuroendocrine Differentiation in Prostate Cancer: Therapeutic Challenges and Opportunities"
Abstract: Prostate cancer remains a leading cause of cancer death among men in developed countries. While most localized diseases can be cured by surgery and/or radiation therapy, approximately 10% of low-risk and 30-50% of high-risk diseases recur and eventually progress to metastatic diseases. Androgen deprivation therapy (ADT), by suppressing the androgen receptor (AR) signaling, is a standard of care for metastatic prostate cancer. Despite the initial response to ADT, most patients inevitably experience tumor recurrence through reactivation of the AR signaling and develop castration resistant prostate cancer (CRPC). Recent clinical observations have provided evidence that a subset of CRPC further progresses to treatment-induced neuroendocrine prostate cancer (NEPC), an aggressive variant of CRPC without any treatment option. Accumulated experimental evidence suggests that neuroendocrine differentiation (NED), a phenotypic change by which prostate cancer cells are induced to transdifferentiate into neuroendocrine-like (NE-like) cells by therapeutic agents, is associated with therapy resistance and NEPC development. In this talk, I will use radiation-induced NED as an example to provide preclinical evidence that targeting treatment-induced NED is an effective approach to sensitize prostate cancer to treatments and to prevent disease progression.
Keynote Speaker II

Prof. Mark Kauffman
Lake Erie College of Osteopathic Medicine, USA
Dr. Mark Kauffman attended St. Francis University, Loretto, PA USA, receiving a BS in Physician Assistant degree and practiced as a physician assistant in transplant surgery at Children's Hospital of Pittsburg for six years prior to his medical school matriculation at Lake Erie College of Osteopathic Medicine (LECOM) Erie, PA. USA. He is board certified in family medicine and has a Master's of Science in Medical Education degree. Dr. Kauffman is Associate Dean of Academic Affairs at LECOM, Bradenton, FL. USA and is Clinical Professor of Family Medicine. He developed the Accelerated Physician Assistant Pathway, the only accelerated three-year pathway for certified physician assistants to earn Doctor of Osteopathic Medicine degrees in the US. His current research focuses on Verruca Plantaris and USMLE/COMLEX Board Performance. Dr. Kauffman has published two texts on history and physical examination, a board review text and video series for the COMLEX 2-PE exam, multiple journal articles and presentations.